If you have long commutes around East Stroudsburg, Stroudsburg, or Easton, then you know the importance of a fuel-efficient vehicle. That's why the Mazda3 is a great option for those drivers in the Brodheadsville and Saylorsville areas.
Below, our team will go over the Mazda3 miles per gallon ratings. We'll not only tell you what they are, but we'll also explain the technologies that go into getting those numbers. Read through the information below, and don't hesitate to contact us at Ray Price Mazda if you have any questions.
Mazda3 Fuel-Efficient Performance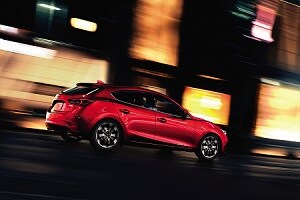 The Mazda3 achieves up to an EPA-estimated 28 city/37 highway MPG when it's equipped with a SKYACTIV®-G 2.0L 4-cylinder engine and a 6-speed automatic transmission.*
The fuel economy ratings do differ slightly, depending on which engine/transmission combination you have. 
For example, there's an available SKYACTIV®-G 2.5L 4-cylinder that, like the standard engine, can be paired with a 6-speed manual or automatic transmission. 
When mated to the automatic transmission, the vehicle will achieves an EPA-estimated 27 city/36 highway MPG.*
However, keep in mind that these fuel economy ratings don't compromise the vehicle's power. 
In fact, the optional 2.5L engine delivers 184 horsepower and 185 lb-ft of torque. 
With quick acceleration, you'll have plenty of highway-passing power.
Not only that, but you'll have a sedan that'll let you spend more time cruising on the road and less time stopping at the gas station to refuel.
In this Mazda3 vehicle review, our team at Ray Price Mazda has compiled all of the information you need about this car, so you can easily decide if it would be a good fit for your lifestyle.
Mazda SKYACTIV® TECHNOLOGY
Part of what makes the Mazda3 so efficient is SKYACTIV® TECHNOLOGY. This system takes the entire vehicle into consideration, utilizing various innovations that work together to enhance the overall driving experience.
For example, with SKYACTIV®-G gasoline, you get a cleaner and more fuel-efficient engine. Conventional internal combustion engines only harness about 30% of the potential energy of fuel. However, Mazda engineers pushed the limits of internal combustion when designing the engines in the Mazda3. This results in greater fuel efficiency than other vehicles out on the road.
Other Mazda3 Performance Features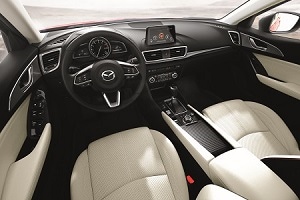 SKYACTIV® TECHNOLOGY doesn't just help improve the fuel economy in the Mazda. It also enhances performance, starting with how the car is built.
The SKYACTIV® Body consists of the car's body and chassis. 
It has a framework that integrates ultra-high tensile-strength steel in critical areas to make the vehicle lighter, but also stiffer and stronger. 
The result is two-fold: You get nimbleness at low speeds while also achieving stability at high speeds.
Furthermore, there's SKYACTIV-VEHICLE DYNAMICS with G-Vectoring Control. Whenever you drive around a corner, the system will seamlessly adjust the power delivery and shift the vehicle weight. 
The result is a smoother and less fatiguing drive. The effect may be subtle, but it's one that you and your passengers would notice if you were in a different automobile.
Test Drive the Mazda3
With the Mazda3 miles per gallon ratings in place, you'll spend much more time enjoying your drives around East Stroudsburg, Stroudsburg, and Easton.
If you want to experience this vehicle in person, then schedule a test drive at our dealership near Brodheadsville and Saylorsville. This will help determine if the car is right for you.
Don't wait. Test drive the Mazda3 at Ray Price Mazda today!
*EPA-estimated mileage. Actual results will vary.