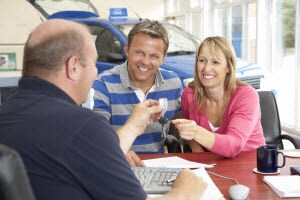 A small mountain town with modern appeal, your Mazda dealer near me, Ray Price Mazda, is proud to call the region of Stroudsburg, PA, home. And we have for many, many years.
Since the first Ray Price dealership opened in 1913, four Price generations have played a steadfast role in our growing business that serves local drivers throughout the Pocono Mountain region. Our extensive dealership experience, comprehensive inventory of new and pre-owned Mazda vehicles, and expert staff combine for a dealership visit you won't soon forget.
 Mazda Allentown, PA
 Mazda Nazareth, PA
 Mazda Arlington Heights, PA
 Mazda New York, NY
 Mazda Bangor, PA
 Mazda Pen Argyl, PA
 Mazda Bethlehem, PA
 Mazda Brodheadsville, PA
 Mazda Reeders, PA
 Mazda East Stroudsburg, PA
 Mazda Saylorsburg, PA
 Mazda Easton, PA
 Mazda Sciota, PA
 Mazda Jim Thorpe, PA
 Mazda Scranton, PA
 Mazda Mount Pocono, PA
 Mazda Stroudsburg, PA
 Mazda Mountainhome, PA
 Mazda Wilkes-Barre, PA
 Mazda Wind Gap PA
 2019 Mazda CX-9 for Sale near Easton, PA 
 
More on Ray Price Mazda
Over 100 years is a lot of time to refine a business model, and here at your Mazda dealer near me, we haven't wasted a minute of it. We're all in on providing our customers with a dealership experience that works harder on their behalf.     
Starting from the time you step foot into our showroom or service center, we offer you honest pricing and the quality, professional assistance that you want and need.   
Mazda Dealer in Pennsylvania
While our local customers come from the greater Stroudsburg region, others travel from up and down the east coast for our elite level of service and complete Mazda collection. After all, it's hard to argue that trading in your current ride for a brand new Mazda isn't the perfect way to start or end a Pocono vacation!   
To learn about the services we offer in your area, click on the link to your town on this page.   
Stop by a Mazda Dealer near Me
The new car research process takes a lot of consideration. Luckily, your trusty Ray Price Mazda reps are on standby to answer any vehicle questions that might come to mind.   
For help with sales, service, or parts, reach out to us at the corresponding number below:             
Sales: (877) 320-8955                            
Service: (888) 883-7634                           
Parts: (844) 816-4316  
Our website is an incredible resource for accelerating your Mazda research. We encourage you to check out all of the dropdown pages to get to know us better and fully explore which Mazda ride will be the right pick for you.