Midsize SUVs like the 2017 Mazda CX-9 and the 2017 Acura MDX are some of the most popular family travel vehicles on the road today.
Those in the market for an efficient, three-row SUV for driving East Stroudsburg, Stroudsburg, Easton, Brodheadsville and Saylorsville will find both the CX-9 and the MDX up for the challenge. To help you select the ride that's right for you, Ray Price Mazda put together the following vehicle comparison.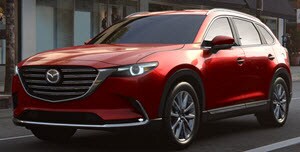 See how these top-performing SUVs stack up below!
Mazda CX-9 vs. Acura MDX: Performance
In terms of performance, the 2017 Mazda CX-9 and the 2017 Acura MDX are two well-versed SUVs. Under their respective hoods, capable engines power up with over 225 horsepower on tap while standard automatic transmissions deliver swift acceleration.
These models are also known for their sporty handling that brings high engagement to navigating winding roads and hairpin turns.
When it comes to fuel efficiency, the Mazda CX-9 earns an EPA-estimated 22 MPG city/28 MPG highway. The MDX isn't too far behind at 19 MPG city/27 MPG highway, but the CX-9's added efficiency may help you keep your gas bill in check.
Comparing Seating & Cargo
Legroom to liftgates, utility is a make-or-break category for family SUV shoppers. How do the Mazda CX-9 and Acura MDX compare? Let's take a look at their legroom splits in each row:
2017 CX-9: 41 inches/39.4 in/29.7 in
2017 MDX: 41.4 inches/36.6 in/28.1 in
Though they both offer spacious front seats, if you're considering one of these rides, it's likely that you'll be using all three rows at some point and will appreciate the Mazda CX-9's extra room for middle and rear seat passengers.
The other side of the coin is cargo. Luckily, the Mazda CX-9 and the Acura MDX don't disappoint here with a max cargo capacity of around 70 cubic feet available-71.2 ft3 in the CX-9 and 68.4 ft3 in the MDX. Even with all seats in place, 14 cubic feet is plenty for stowing weekly groceries, bulky baby bags, or camping gear.
Mazda vs. Acura: Advanced Safety Features
Based on their standard safety equipment-advanced airbags, traction control, etc.-buyers can be confident in selecting either the 2017 CX-9 or the 2017 MDX, as both vehicles offer a complete suite of these protection essentials.  
But, as you may know, today's cars are increasing their IQs on nearly every level to produce a more intuitive, safe ride. The CX-9 and the MDX lead the pack, making several cutting-edge safety technologies available, such as lane departure warning and blind spot monitoring.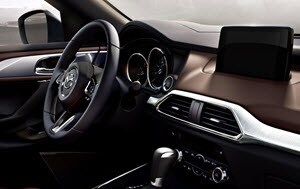 The 2017 Mazda CX-9 features a unique Distance Recognition Support System that helps drivers maintain a safe following distance behind the car in front of theirs based on speed and other factors.
2017 Mazda CX-9 vs. Acura MDX
Both of these vehicles offer excellent drive characteristics, seating for seven, and advanced safety features, so we know that choosing between the 2017 Mazda CX-9 and the 2017 Acura MDX is a tough one!
For drivers in East Stroudsburg, Stroudsburg, Easton, Brodheadsville and Saylorsville seeking a space-smart, fuel-smart SUV, the Mazda CX-9 is ready to go for a spin at Ray Price Chevrolet. Reach out to us today to schedule your test drive appointment.