If fuel efficiency is important to you when choosing an SUV for your drives around the East Stroudsburg, Brodheadsville, and Saylorsville areas, the Mazda CX-5 is a good pick. 
In fact, the Mazda CX-5 miles per gallon ratings are an EPA-estimated 24-25 MPG city and 30-31 MPG highway.1
To give you a better idea of how to achieve optimal fuel efficiency while commuting through Stroudsburg and Easton, the team at Ray Price Mazda took a close look at all the factors at play when considering the Mazda CX-5 miles per gallon numbers.
Related Posts:
Mazda CX-5 Miles Per Gallon: Drivetrain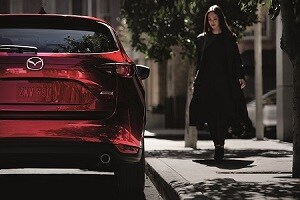 The biggest player in determining your Mazda CX-5 miles per gallon ratings is the drivetrain. 
This SUV comes standard with front-wheel drive (FWD), which will get you an EPA-estimated fuel efficiency of 25 MPG city and 31 MPG highway.1
However, if you're concerned about how an FWD car will manage in the snow, a smart all-wheel drive (AWD) system is available, called iACTIV AWD®. 
This system uses context clues-windshield wiper usage, driving patterns, outside temperatures-to determine your driving conditions.
If it senses the roads may be slippery, it readjusts torque distribution among all four wheels to improve grip strength. This includes backing off and operating in FWD during light driving conditions. This drivetrain will get you an EPA-estimated fuel efficiency of 24 MPG city and 30 MPG highway.1
It's important to note, as well, that AWD-equipped Mazda CX-5 SUVs have a higher fuel capacity, sporting a 15.3-gallon tank vs. a 14.8-gallon tank in FWD-equipped Mazda CX-5 SUVs. So, despite the slight variation in fuel efficiency between the two drivetrains, you may find yourself filling up with equal frequency, regardless of which one you choose.
Mazda CX-5 Engine Specs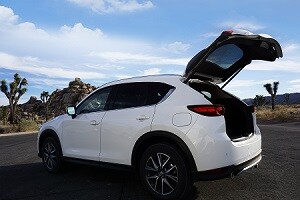 One of the ways the Mazda CX-5 is able to get so many miles per gallon is with its highly efficient powertrain. It comes with a SKYACTIV®-G 2.5L engine that generates 187 horsepower and 186 lb-ft of torque.
This engine features a fuel-saving technology called cylinder deactivation, which transfers operation from four cylinders to two during highway driving, when it doesn't need to work as hard. This improves efficiency without sacrificing performance.
It's paired with a SKYACTIV®-Drive 6-speed automatic transmission with Manual and Sport modes. This transmission provides the efficiency and smooth shifting of an automatic, while still letting you manually shift up to reduce your RPMs or shift down to prevent any "lugging" when necessary.
While Normal mode will improve your efficiency, you can also drive in Sport mode when you want an even more engaging and sporty driving experience.
Let's talk about the Mazda CX-5 MPG
There's a lot more that goes into making the Mazda CX-5 a highly efficient SUV. The aerodynamic KODO: Soul of Motion design, for example, or the lightweight chassis and suspension, brings down the curb weight.
If you want to learn more about the Mazda CX-5 miles per gallon ratings and the different features that help you maximize efficiency, come to Ray Price Mazda near East Stroudsburg and Saylorsville. We can't wait to show you around the Mazda CX-5 and get you out for a drive around Stroudsburg, Easton, and Brodheadsville.
1EPA estimated mileage. Actual results will vary.