If fuel efficiency is important to you when choosing an SUV for your drives around the East Stroudsburg, Brodheadsville, and Saylorsville areas, the Mazda CX-5 is a good pick. 
In fact, the Mazda CX-5 MPG ratings are EPA-estimated to be between 24 city/30 highway and 25 city/31 highway MPG with the standard motor.1
To give you a better idea of how to achieve optimal fuel efficiency while commuting through Stroudsburg and Easton, the team at Ray Price Mazda took a close look at all the factors at play when considering the Mazda CX-5 MPG numbers.
MAZDA CX-5 MPG: Drivetrain
The biggest player in determining your Mazda CX-5 MPG is its drivetrain. 
This SUV comes standard with front-wheel drive (FWD), which will get you an EPA-estimated fuel efficiency of 25 city/31 highway MPG.1
However, if you're concerned about how an FWD car will manage in the snow, a smart all-wheel-drive (AWD) system is available-i-Activ AWD®. With this system in place, your EPA-estimated fuel economy measures 24 city/30 highway MPG.1
This system uses context clues-windshield wiper usage, driving patterns, outside temperatures-to determine your driving conditions.
If it senses the roads may be slippery, it readjusts torque distribution among all four wheels to improve grip strength. This includes backing off and operating in FWD during light driving conditions.
It's important to note, as well, that AWD-equipped Mazda CX-5 SUVs have a higher fuel capacity, sporting a 15.3-gallon tank vs. a 14.8-gallon tank in FWD-equipped Mazda CX-5 SUVs.
So, despite the slight variation in fuel efficiency between the two drivetrains, you may find yourself filling up with equal frequency, regardless of which one you choose.
MAZDA CX-5 MPG Rating With Optional Turbo Motor

If you decide you want to step up to the Skyactiv®-G 2.5L Dynamic Pressure Turbo motor, your fuel economy is going to go down slightly from the base 2.5L motor. However, it's not a large drop.
By placing the optional motor under the hood of your 2020 Mazda CX-5, you can still achieve a respectable 22 city/27 highway MPG.1 The turbo engine can only be had with an all-wheel-drive platform, so there's only one fuel economy measurement you'll have to take note of.
MAZDA CX-5 Engine Specs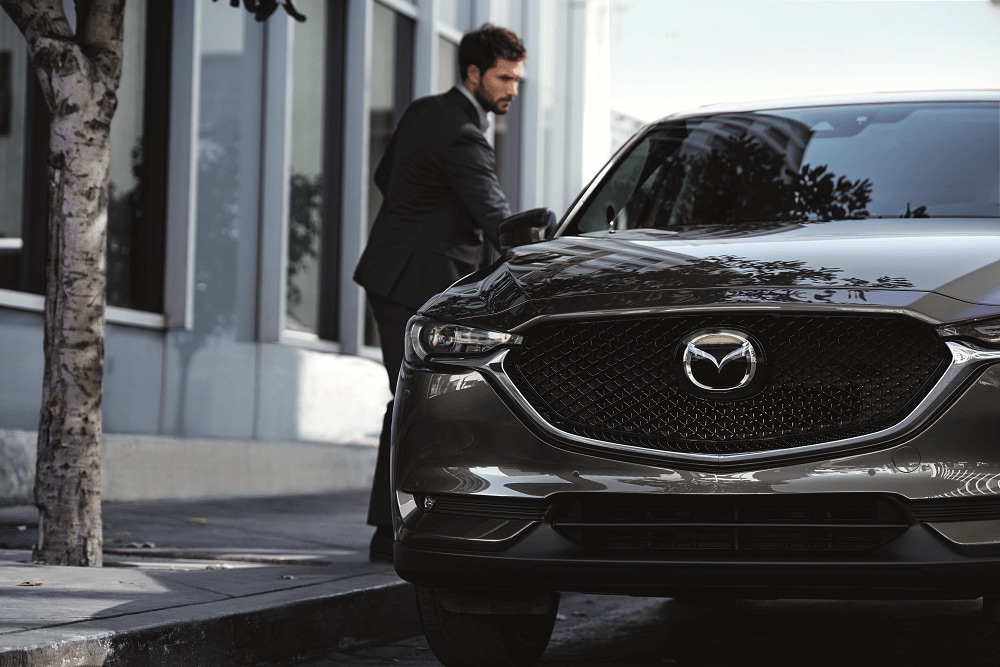 One of the ways the Mazda CX-5 is able to achieve such great fuel economy is with its highly efficient powertrain. It comes with a standard Skyactiv®-G 2.5L engine that generates 187 horsepower and 186 lb-ft of torque.
This engine features a fuel-saving technology called cylinder deactivation, which transfers operation from four cylinders to two during highway driving, when it doesn't need to work as hard. This improves efficiency without sacrificing performance.
It's paired with a Skyactiv®-Drive 6-speed automatic transmission with Manual and Sport modes. The transmission provides the efficiency and smooth shifting of an automatic, while still letting you manually shift up to reduce your RPMs or shift down to prevent any lugging when necessary.
While Normal mode will improve your efficiency, you can also drive in Sport mode for an even more engaging and sporty driving experience.
The Mazda CX-5 sees a sharp uptick in ability with the optional turbo motor. If you regularly use 87 octane premium unleaded fuel, you'll see outputs of 227 horsepower and 310 lb-ft of torque.
However, you have the option to use 93 octane premium unleaded fuel, which will ramp up the production of your SUV, so it generates 250 horsepower and 320 lb-ft of torque.
Much of the technology in the base motor comes with the available turbo option, including the 6-speed automatic transmission and the efficiency-enhancing cylinder-activation system.

Curb Weights & Towing Capacity
There are other elements to the Mazda CX-5's performance that may interest you. For example, the curb weight of the sleek SUV is going to play a vital role and is adjusted based on whether you choose the AWD or FWD arrangement.
With FWD, the model checks in with a curb weight of around 3,540 pounds, giving the SUV a nimble, maneuverable personality. There isn't much added weight if you step up to the AWD system with the base motor, either.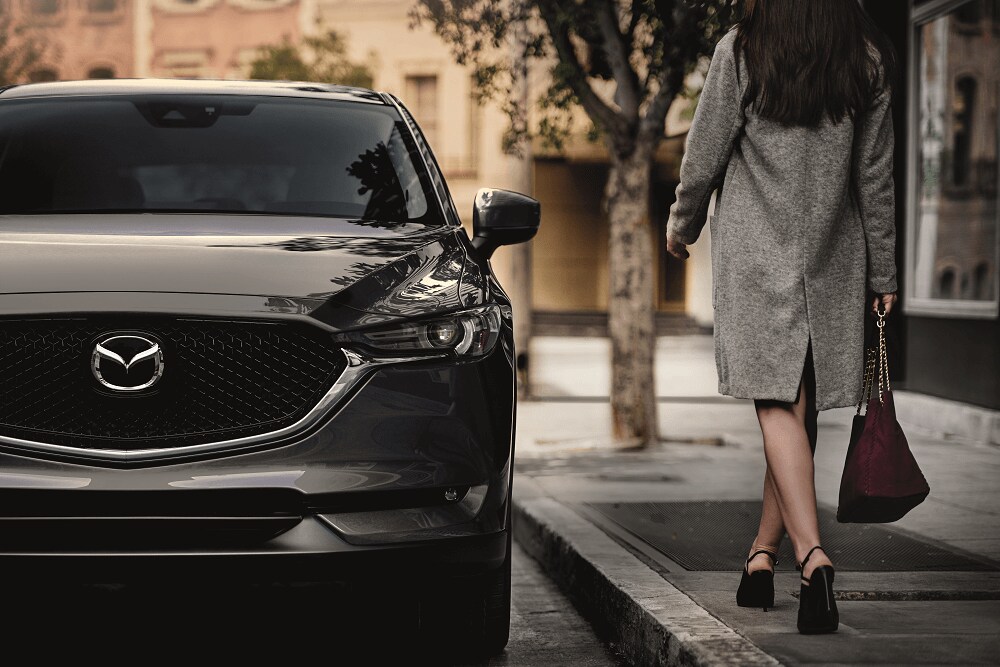 In fact, it's just a matter of 100 pounds or so, with the AWD 2020 Mazda CX-5 checking in at a 3,680-pound curb weight.
To help generate some of the extra propulsion from the turbo engine, the Mazda CX-5 stacks on some more poundage, ending up with 3,825 pounds of curb weight. Still, you're getting an SUV that is relatively trim.
How do the differences in the drivetrain, engine, and curb-weight setup influence the maximum towing capacity of your 2020 Mazda CX-5? The answer-not that much.
In fact, regardless of how you go about setting up the performance of your SUV, you will still peak at a maximum towing capacity of 2,000 pounds.2 Overall, that's a pretty good amount, giving you the chance to haul boats, trailers, ATVs, and other items.
Let's Talk About the 2020 MAZDA CX-5 MPG
There's a lot more that goes into making the Mazda CX-5 a highly efficient SUV. The aerodynamic KODO: Soul of Motion design, for example, or the lightweight chassis and suspension, brings down the curb weight.
If you want to learn more about the Mazda CX-5 MPG ratings and the different features that help you maximize efficiency, come to Ray Price Mazda near East Stroudsburg and Saylorsville.
We can't wait to show you around the Mazda CX-5 and get you out for a drive around Stroudsburg, Easton, and Brodheadsville. Contact us today!
1EPA estimated mileage. Actual results will vary.
2Up to 2,000 pounds of towing capacity. Towing capacities shown are maximums and must be reduced by the weight of any passenger, cargo hitch or optional equipment in the towing vehicle. Please refer to vehicle Owner's Manual for details regarding towing capacities and other valuable information. Towing a trailer may have an effect on vehicle's handling, braking, durability, performance and driving economy. For specific information on recommended or required equipment, see your Mazda Dealer. Hitches are available through manufacturers other than Mazda.