Drivers looking for a car with exceptional power and interior comfort might find themselves comparing the Mazda3 vs. Ford Focus, but how do you know which car is right for you? In this Ford Focus vs. Mazda3 vehicle comparison, drivers from across the East Stroudsburg, Stroudsburg, Easton, Brodheadsville, and Saylorsville areas will discover the key differences, so you can decide which model has the features and specifications you want.
If you have any questions, please don't hesitate to contact us at Ray Price Mazda.
Interior Styling of the Ford Focus versus Mazda3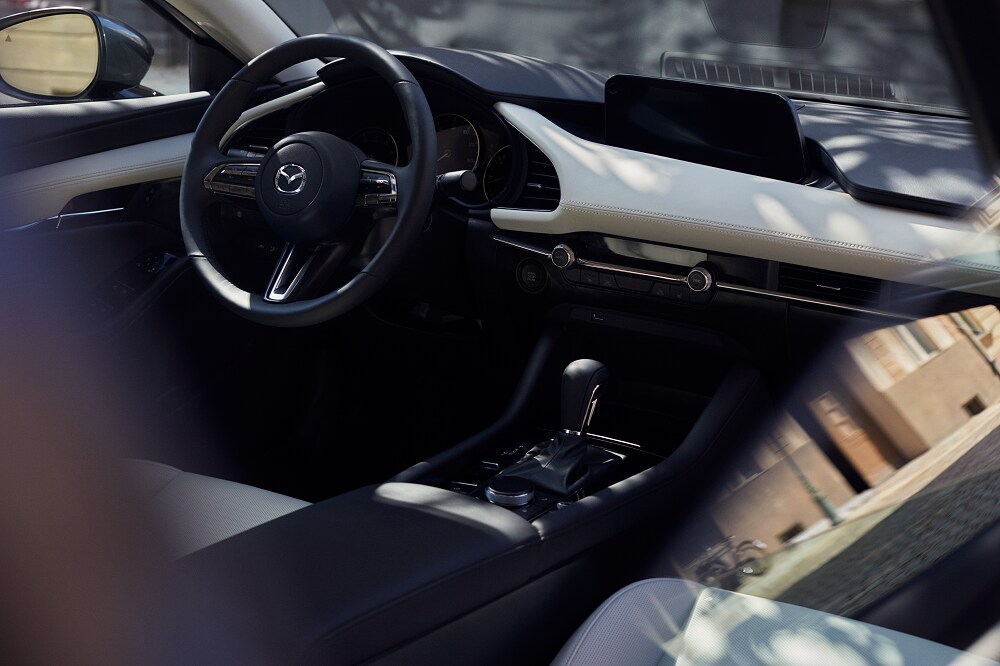 The cabins of the Ford Focus and Mazda3 (in regard to the sedan body style) are fairly spacious and well appointed. You'll find some of the latest technological features, such as Bluetooth® streaming audio, hands-free calling, and advanced infotainment systems, but in terms of comfort, the Ford Focus is at a disadvantage.
The 2019 Mazda3 has 92.8 cubic feet of passenger volume, while the Ford Focus only has 90 cubic feet despite the fact that both vehicles have seating for up to five passengers. Not only that, but the second row of the Mazda3 offers more legroom for passengers than the Focus-35.1 inches vs. 33.2 inches, respectively. So, taller passengers riding in the back seat will have more space to stretch out in the Mazda3.
Performance Specifications
When it comes to performance, the 2019 Mazda3 and the Ford Focus are fairly similar. For instance, they both come standard with a 4-cylinder gasoline engine. They also both come standard with a manual transmission and offer an optional 6-speed automatic transmission to interested drivers. The power differences slightly, however. In the Mazda3, you'll generate an impressive 186 horsepower, while in the Focus, you'll only receive up to 160 horsepower.
There's also a difference in available torque when you look at the base engines of the Ford Focus and Mazda3. In the Focus, torque is limited to 146 lb-ft, but the Mazda3 produces 186 lb-ft of torque. After all, this can possibly make quite the difference since more torque can promote longer engine life.
| | | |
| --- | --- | --- |
|   | Mazda3 | Ford Focus |
| Gasoline Engine | 4-cylinder | 4-cylinder |
| Transmission | 6-speed automatic | 6-speed automatic |
| Horsepower | 186 horsepower | 160 horsepower |
| Torque | 186 lb-ft | 146 lb-ft |

Mazda 3 vs Ford Focus - Technology
When it comes to keeping you connected and entertained on the roads, one of these sedans might leave you wanting a little more. The tech found in the 2019 Mazda3 is sure to impress with many available features, including the 12-speaker Bose® Premium Audio System, Apple CarPlay™, Android Auto™, and an 8.8-inch wide-center multifunction dashboard screen.
In the Ford Focus, you'll also find Apple CarPlay™ and Android Auto™, but the Sony® Audio System only offers 10 speakers. Plus, the standard dashboard screen in this vehicle only measures in at 4.2 inches.
Mazda3 vs Ford Focus - Which One Will You Choose?
Although both are fine vehicles, the professionals at Ray Price Mazda believe the better performance, extra space, and advanced technology features found in the Mazda3 are going to make you fall in love with this vehicle.
Serving drivers from East Stroudsburg, Stroudsburg, Easton, Brodheadsville, and Saylorsville, we'll help you get behind the wheel of the Mazda3, allowing you to see how it can enhance your drives in person.
Plus, if you're thinking of buying a new car soon, you can save time at the dealership by completing a credit application online. In just a few short minutes, you could be approved for a low-interest loan.