Tires are what make a vehicle move, which is common knowledge to drivers in the East Stroudsburg, Stroudsburg, Easton, Brodheadsville and Saylorsville, areas. Still, many might not know why their car's tires need to be rotated.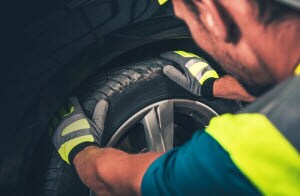 We here at Ray Price Mazda will go over why tire rotations are so important, along with when they should be done. Read all about rotating your tires below, and contact us if you have any questions.
Why Do I Need a Tire Rotation?
Over time, tires will begin to wear, usually at different rates. So, they'll need to be rotated to help even out the tire wear. This will help prolong the lifespan of the tires, so you won't need to keep replacing them, as that could get costly.
Plus, when tires are properly rotated, they'll help keep a balanced handling, along with maintained traction. This is definitely important when driving on slick roads.
How Often Should You Rotate Your Tires?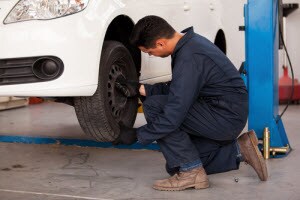 To determine when you need a tire rotation, you can read through your vehicle's owner's manual. Generally, though, you should get one with every oil change, which is roughly every 7,500 miles or every six months, whichever comes first.
If you don't remember when you last had your tires rotated, you can watch out for some warning signs. One of them is uneven wear between individual tires. If you notice that the treads or bridges on one side of the tire are wearing away more quickly than the other, then you'll need to get the tires rotated.
This means the front and rear tires will be switched from front to back, and either kept on the same side or moved to the opposite one. It all depends on which type of vehicle you have (front-wheel, rear-wheel, or 4-wheel drive).
Signs You Need a Tire Rotation
Loss of Pressure
Vehicle Vibrates at Speeds Higher Than 45 MPH
Uneven Wear Between Tires
Feathering
Schedule a Tire Rotation at Ray Price Mazda
From tire rotations to tune-ups and even major repairs, we can tackle any job required to keep your vehicle in perfect shape. When you need repairs, maintenance or inspections on your Mazda, the best Mazda service center in Stroudsburg, PA, is known as Ray Price Mazda.
If you need to get your tires rotated, then schedule service today. Our certified technicians will work quickly and efficiently to get your car in like-new conditaion, so you can get back on the road as soon as possible. We're proud to serve the Stroudsburg, Easton, Brodheadsville and Saylorsville areas, and we look forward to serving you.
Schedule Service
Hours
Monday

08:00AM - 05:00PM

Tuesday

08:00AM - 05:00PM

Wednesday

08:00AM - 05:00PM

Thursday

08:00AM - 05:00PM

Friday

08:00AM - 05:00PM

Saturday

08:00AM - 04:00PM

Sunday

Closed