Mazda routinely creates some of the safest cars for families on the road today, and their recent stretch of models is getting much deserved recognition for their hard work in this field. In the coming sections, we'll be looking at various Mazda models that would be a terrific pairing for growing families in the East Stroudsburg, Stroudsburg, Easton, Brodheadsville, and Saylorsville areas.
After learning about these protective, family-oriented vehicles, you can get a closer look by scheduling a test drive. To do this, contact the insightful staff at Ray Price Mazda!
Mazda Wins IIHS Top Safety Award
Mazda has long been known for the athletic performance of their sleek models, yet these vehicles have always displayed an acute attention to safety as well. Recently, perception has finally caught up with truth, and Mazda is getting much-deserved recognition for their efforts in the field of safety.
The Insurance Institute for Highway Safety (IIHS) hands out top safety award picks each year to vehicles that go above and beyond in the field of safety. To determine who receives these awards, IIHS will test vehicles for qualities like crashworthiness, how well a vehicle protects passengers in a crash, crash prevention systems and technology, plus other subtler details like headlight clarity, airbag layouts, and roof strength.
In 2018, the following Mazda models received an IIHS top safety award, making them a terrific option for families:
Mazda CX-3
Mazda CX-5
Mazda CX-9
Mazda3
Mazda CX-3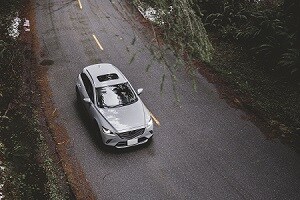 We'll be doing a brief dive into the safety features found in each of the Mazda IIHS safety award winners, starting with the Mazda CX-3.
For starters, this model features Rear Cross Traffic Alert, which will give you an audible warning if you happen to be reversing and another vehicle is approaching your path. This trait is especially handy in crowded parking lots.
Additionally, the Mazda CX-3 sports a Lane Departure Warning System, which lets you know if you've started to drift out of your respective lane without first putting the turn signal on.
Mazda CX-5
The next Mazda SUV to earn an IIHS safety award is the technologically advanced Mazda CX-5.
One of the standout traits of this model is the Smart Brake Support system. This setup will detect traffic in front of your vehicle, and alert you if braking is immediately necessary. If you fail to respond, the brakes will engage automatically.
Mazda CX-9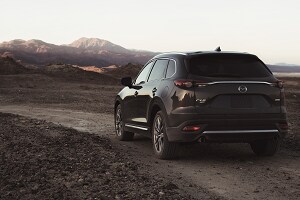 The final Mazda SUV to earn an IIHS safety award is the Mazda CX-9, which places an emphasis on road clarity as you drive.
It does this by utilizing an Adaptive Front-Lighting System that helps you see around corners at night by pivoting the headlights up to 15 degrees in the direction of your turn.
Mazda3
Finally, we come to the refined Mazda3, which is the final Mazda model chosen for a prestigious IIHS safety award.
This sedan comes with Mazda Radar Cruise Control to help make your highway travels safer. When you turn this cruise control on, the system judges the speed and distance of the vehicle in front of you and works to maintain a safe following distance by altering your speed appropriately.
Keep Your Family Safe with Mazda
Safety is an understandable concern for families in East Stroudsburg, Stroudsburg, Easton, Brodheadsville, and Saylorsville looking for a car. Thankfully, Mazda has plenty of family-oriented options that pair performance with protection.
If you see a vehicle that you like, contact Ray Price Mazda to schedule a test drive!