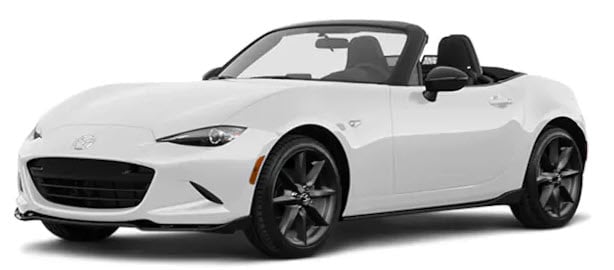 In 2018, when it comes to sports cars, Mazda and Toyota are two of the biggest players in the game.
It comes down to the 2018 Mazda MX-5 vs. the 2018 Toyota GT86. Which one should you pick? It doesn't matter if you live in East Stroudsburg, Stroudsburg, Easton, Brodheadsville, Saylorsville, or any surrounding communities-if you're a driver, that's the question that's been going through your head.
Luckily, our Ray Price Mazda research team created this head-to-head look at the Mazda MX-5 vs. the Toyota GT86. Don't hesitate to reach out to us with questions or to set up a test drive.
Engine Performance: What a Sports Car Is All About
Here's an overview of the 2018 Mazda MX-5 Miata's performance specs. They speak for themselves…
Engine: SKYACTIV®-G 2.0L DOHC 16-Valve 4-Cylinder with VVT
Horsepower: 155 horsepower @ 6,000 RPM
Torque: 148 lb-ft @ 4,600 RPM
Redline: 6,800 RPM
Plus, with an automatic transmission, it manages to achieve EPA-estimated fuel economy ratings of up to 26 MPG in the city and up to 35 MPG on the highway.1 The 2018 Toyota GT86 isn't nearly that efficient. By only managing an EPA-estimated 21 city MPG and 28 highway MPG, the Toyota GT86 falls significantly short of the Mazda MX-5.
2018 Mazda MX-5 vs 2018 Toyota GT86: Style
A blazing red; a blinding white; a sophisticated grey; a sexy silver; a bold blue; these are just some of the hot exterior colors that you can paint the 2018 Mazda MX-5 Miata. Regardless of which body color you pick, it'll serve as a beautiful complement to this convertible's stunning Dark Cherry or Classic Black soft top roof.
There are plenty of other cool outside design features, as well, including:
Heritage Lights: On this Mazda convertible, the taillights are a throwback to a more vintage era.
Ultra-Sleek Lights: Yet the headlights are a look forward into the future, and the two blend as perfectly as any crossroads between classic and modern possibly could.
Sporty Contours: All in all, the 2018 Mazda MX-5 was created with an athletic vibe that few cars can boast. Its hood is low and muscular, its grille is aggressive, and its rims are attractive.
In many ways, the 2018 Toyota GT86 seems to have been based off of the 2018 Mazda MX-5 Miata. The two cars look extremely similar in terms of shape and style. However, the one area where it doubtlessly falls short is that it's not a convertible! You can't drop the top and feel the wind like you can in the Mazda MX-5.
Contact Us Today at Ray Price Mazda to Set Up an Exclusive Test Drive!
If horsepower and soft tops (or no tops!) are your thing, then the 2018 Mazda MX-5 Miata is your sports car-it's that simple. If the 2018 Mazda MX-5 Miata is your sports car, then Ray Price Mazda is your dealership. Contact us online, on the phone, or in person to schedule your test drive.
We're here to serve all our Saylorsville, Brodheadsville, Easton, Stroudsburg, and East Stroudsburg, PA, customers-and that means that we'll strive to have you behind the wheel for yourself in no time at all.
1 EPA-estimated mileage. Actual results will vary.