Bethlehem, Pennsylvania, may be referred to as the "Christmas City," but it certainly has more to offer all year round. This city maintains a rich history along with a rustic appeal and the convenience of a major metropolitan area. Bethlehem was even voted one of the "Top 100 Best Places to Live" in Money Magazine.
While this city features picturesque streets, getting around can be tricky when you're without a set of wheels. However, if you're looking for a stylish and efficient vehicle, you may want to start looking for a Mazda dealer near Bethlehem. Luckily, you don't have to travel far because Ray Price Mazda is a short drive away. 
Mazda Browsing Convenience Near Bethlehem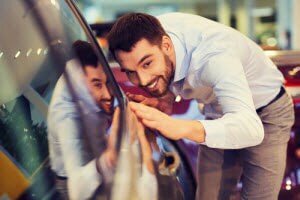 At your Bethlehem Mazda dealer, we try to be as helpful as possible to drivers who are actively seeking out their next car. Even though we're a Mazda dealer near Bethlehem, you don't have to hop on I-80 just to check out our vast inventory. You don't even have to leave the house because our entire lineup of Mazda vehicles can be viewed from our website. Whether you're looking for the agile Mazda CX-3, the sleek Mazda3, or the stylish Mazda MX-5 Miata, you can find those models, and many more, in our online inventory. 
Researching Your Mazda
As a Mazda dealer near Bethlehem, we know that choosing your next car is a major decision. That's why we have research materials that we encourage you to use to make the most informed decision possible. Our Mazda reviews are a great way to introduce yourself to some of your favorite models. You'll learn all about what they offer in terms of power, comfort, amenities, and safety.
If you're torn between different vehicles, we recommend that you check out our Mazda vs the competitor comparisons. These articles will place your favorite model right next to a comparable model from a different brand. It will highlight the similarities and, more importantly, the differences so you can determine which vehicle offers you more. 
Test Drive A Mazda Near Bethlehem 
While our reviews and comparisons can be helpful in showing you more about your favorite vehicles, nothing beats getting behind the wheel and experiencing it for yourself. When you come in, let us you know your favorite model and we'll schedule you a test drive. While you're out on the road, you'll get a good sense of how the vehicle handles and what it offers in terms of interior features. You'll know if the vehicle is the one for you. 
Reliable Mazda Service Near Bethlehem
As a Mazda dealer near Bethlehem, we know how important it is to have somewhere to take your vehicle in for service. At Ray Price Mazda, our Mazda Service Center is here for you. Our service technicians use the latest tools to perform routine inspections and even complex repairs. Whenever you're in need of a professional to look under hood, just contact us. 
At Ray Price Mazda, we're always happy to help drivers from Bethlehem find the right car, and keep it performing like new for many years and miles.