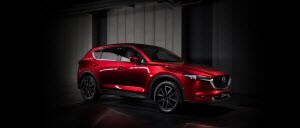 Crossover SUVs are the most exciting, popular vehicles on the road in East Stroudsburg, Stroudsburg, Easton, Brodheadsville and Saylorsville, PA, providing drivers with all the features that make for a quality vehicle. While there are several excellent options you could choose when you're ready to purchase a new crossover, the two that will provide you the most enjoyment are the classic Toyota RAV4 and the upcoming newest version of the Mazda CX-5. 
Since choosing between these two models can be difficult, comparing their best features directly can be a useful tool for making your decision. Read about the 2017 Mazda CX-5 vs Toyota RAV4 car comparison so that you can be sure to drive the crossover SUV that offers you the best benefits. 
Pick the Crossover that Offers Supreme Control
The most important factor to consider when purchasing a new crossover SUV is how much control you'll have when you're behind the wheel, and if you're looking for a smooth driving experience, there are no two better models than the Mazda CX-5 and the Toyota RAV4. 
When you drive the Mazda CX-5 vs Toyota RAV4, you will notice a difference in handling. In the RAV4, you'll have access to an all-wheel drive system that includes dynamic torque control for extra handling ability. However, for total control and stability, you need the 2017 Mazda CX-5, which combines i-ACTIV AWD® with a convenient command control knob and a driver centric cockpit that you won't be able to resist taking a ride in. 
Contrast Style Philosophies
As the popularity of crossover SUVs has grown, so has these vehicles focus on advanced design, and if you're a consumer in East Stroudsburg, Scranton, and Brodheadsville who values attractive styling, then you'll find suitable options in both the Toyota RAV4 and the 2017 Mazda CX-5. 
Choosing the RAV as your next vehicle means getting access to bold, classic crossover styling, which includes such features as LED headlights, daytime running lights, and standout wheel designs. If you're look for a touch of refinement in your crossover design, then the model for you is the CX-5 whose delicately sculpted lines and signature three-layer paint process make for one of the most unique, enticing exteriors in the class. 
Learn About Technology Features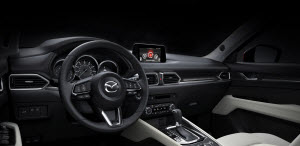 No matter the class you're considering for your next vehicle, you want to be sure you have access to the most useful car technology available, and that's precisely what you'll get when you drive either the CX-5 or the RAV4. 
Featured in the RAV4 is some of the most exciting technology you'll find in any vehicle, including an available Bird's Eye View camera, integrated navigation, and Siri Eyes Free voice control. In the CX-5, you'll find technology that is both fun and useful, including an amazing Bose sound system, sound muffling technology for those times you want peace and quiet, and an Active Driver Display for complete information about your vehicle's functioning. 
Winner of the 2017 Mazda CX-5 vs Toyota RAV4 Comparison
The 2017 Mazda CX-5 vs Toyota RAV4 was a tough car comparison, but when choosing a winner, the clear champion is the 2017 Mazda CX-5. Hitting the market in spring 2017, the incredible Mazda CX-5 is the only crossover SUV that you should consider driving this year. When it's available, schedule a test drive of the 2017 Mazda CX-5 by paying a visit to Ray Price Mazda. 
The team at Ray Price Mazda is here to serve you in whatever way we can, including telling you about all the exciting Mazda vehicles featured on our lot.