Mazda has become a leader in the automobile industry by manufacturing quality vehicles that are designed with performance and comfort in mind. One of the most popular Mazda models is the CX-5. This SUV crossover has gained notoriety for its spacious cargo area, and impressive interior and exterior redesign. However, the difficult part is choosing which of the 2017 Mazda CX-5 trim levels will be best suited for a driver.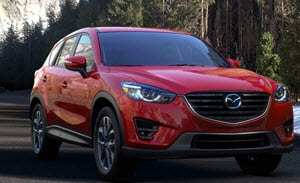 Fortunately, the team at Ray Price Mazda compiled this review to help drivers like you understand the CX-5's distinct options and the differences between them. Use the information provided below to make choosing easy, or call Ray Price Mazda and get expert assistance in the East Stroudsburg, Stroudsburg, Easton, Brodheadsville and Saylorsville area.
Mazda CX-5 Sport
The Mazda CX-5 Sport trim is designed for those who are looking for an SUV that has a few bells and whistles, but is more focused on performance and cargo hauling capabilities.
The CX-5 Sport trim level has an impressive 2.5L engine along with an advanced rack and pinion steering system, which provides the user with control through any driving conditions they may encounter. Whether you're driving during those harsh Pennsylvania winters or during a summer thunderstorm, the Mazda Sport will remain stable, balanced, and safe. Also, it offers leather-trimmed seats and incorporates Mazda's well-loved SKYACTIV technology.
Mazda CX-5 Touring
The Touring trim level offers the same benefits of the Sport model, but with technology bonuses like Keyless Entry, Blind Spot Detection, and an upgraded stereo system that is satellite radio-compatible. In addition to these impressive technology feats, drivers can also benefit from the self-leveling headlights, USB charging ports, and rear cross traffic alerts. All these features are designed to provide a more automated driving experience and allow the driver to focus on the road ahead.
Mazda CX-5 Grand Touring
Few crossovers compare to the CX-5 Grand Touring trim. It comes equipped with automatic brake functionality, automatic windshield wipers, and the complete line of i-ACTIVSENSE controls. It also features a Bose® stereo system, heated rear seats and steering wheel, and a driver's memory seat. This makes it the perfect vehicle for any small or long trip, and will allow any driver to conquer the most challenging adventures. For a driver seeking a vehicle that unites technology with convenience, then the Mazda CX-5 Grand Touring is an incredible choice.
Check Out the Mazda CX-5 Trim Levels for Yourself
The various 2017 Mazda CX-5 trim levels make it the perfect fit for a wide array of drivers. To learn more about the benefits of the CX-5, be sure to contact Ray Price Mazda in East Stroudsburg, Stroudsburg, Easton, Brodheadsville and Saylorsville. They can help answer any questions and arrange a test drive, which can help any consumer make a purchase decision with confidence.