Due to the elevation of the Stroudsburg, East Stroudsburg, Easton, Brodheadsville and Saylorsville areas, winters can be a little more severe. The weather can get very cold and snowfall can be considerable. However, that doesn't keep residents cooped up indoors because there's still plenty of reasons to hit the road, as long as your tires are in great shape.
At Ray Price Mazda, we've had several drivers ask us about all-season tires vs. winter tires and what they should use with their vehicle. Let's take a look and see what would be best for you and your vehicle.
How Weather Can Affect Tires
The rubber in your tires can react to different temperature and weather conditions. Colder weather can actually lower your vehicle's tire pressure, which is why you may see the tire pressure light appear more often in the winter. During the summer, the air pressure in your tires can expand, and if not properly inflated, you could risk a blowout. That's why it's very important to be aware of the recommended PSI for your tires and make sure that they're properly inflated before taking any significant road trips.

What Are All-Season Tires?
All-season tires are specifically designed to withstand the extremes of each season, whether it's a hot and humid summer day or a brisk January evening. They feature thick rubber and deep tread walls that allow the tires to grip the road properly even if there's heavy rainfall or a few inches of snow on the ground. While they're designed to handle all seasons, they can see a loss of air pressure or some considerable wear if there was extreme weather during the seasons. This could lead to considerable tire damage if left unchecked.
What Are Winter Tires?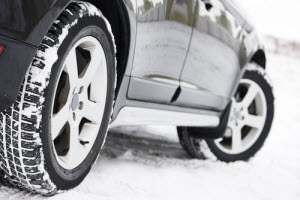 Winter tires are somewhat similar to all-season tires in that they're made of a thicker rubber. However, this rubber is a bit more flexible than the one featured on all-season tires. Winter tires also feature deeper treads to be able to maneuver around easily when there's plenty of snow and ice on the roads. The depth of the tread can help reduce the risk of snow buildup in the treads, which can lead to normal tires losing their traction because they can't grip the ground properly.Service Center
Deciding on All-Season Tires vs Winter Tires
When you have to choose between winter tires vs. all-season tires, your decision should factor in the type of weather your town often experiences. The Stroudsburg, Easton, Brodheadsville and Saylorsville areas often experience wintery mixes throughout the late fall all the way to the early spring, so if you find that the snowfall is considerable in your area and the road conditions worry you, you may want to opt for winter tires. However, both tires can perform well under these conditions, so the decision is up to you.
Are you looking to purchase and install all-season tires or winter tires? Contact us at Ray Price Mazda to get started!
Schedule Service
Hours
Monday

08:00AM - 05:00PM

Tuesday

08:00AM - 05:00PM

Wednesday

08:00AM - 05:00PM

Thursday

08:00AM - 05:00PM

Friday

08:00AM - 05:00PM

Saturday

08:00AM - 04:00PM

Sunday

Closed