Do you ever find yourself needing something extra in your vehicle when cruising the streets of East Stroudsburg, Stroudsburg, Easton, Brodheadsville and Saylorsville? If so, you should consider buying a crossover. 
These versatile vehicles have more storage space than a sedan without the bulkiness of an SUV. That versatility has lead to an incredibly competitive market, however, so finding the right one for your needs can be difficult.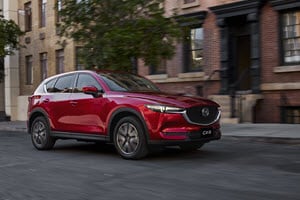 We want to ease your search, so we've compiled this handy comparison between two of the best crossovers on the market, the Mazda CX-5 and the Nissan Rogue. 
Both of these have numerous features all drivers are sure to enjoy, but only one can be the best. 
Find out which is is better for you in our Mazda CX-5 vs Nissan Rogue comparison.
Crossover Performance
Before anything else, your crossover needs to get you where you need to go. Both of these have plenty of power inside, but the CX-5 hosts considerably more. 
You can experience up to 187 horsepower in the Mazda while the Nissan can only offer 170 horsepower at best. 
Despite the extra horsepower, the CX-5 still manages to match the Rogue's fuel economy as they both come in at an EPA-estimated 27 mpg combined.
With the CX-5's new cylinder deactivation feature, its fuel economy could improve even more. 
As the name would suggest, this feature shuts down unnecessary cylinders eliminating the engine's need to fuel them. 
This, along with other improvements to reduce friction and maximize efficiency, stand to make the Mazda crossover one of the most fuel efficient crossovers available.
CX-5 vs Rogue: Interior Dimensions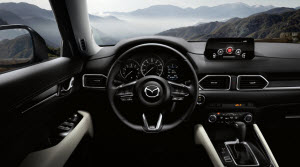 Arguably the best thing about the new CX-5 is the sheer number of standard features. Unlike the Rogue, a leather wrapped shift knob and steering wheel comes standard. 
You'll have access to blind spot monitoring complete with rear cross traffic warnings all at the base trim level. With the Rogue, you'll have to go up a trim level or two to really experience the best features.
The interior features don't end with the luxurious feel. 
Your rear passengers especially will feel the difference in the CX-5. 
The Rogue crams them in with 38.5 inches of headroom and 37.9 inches of legroom. 
Meanwhile, the Mazda crossover offers a generous 39 inches of headroom and 39.6 inches of legroom, so you won't have to deal with as much whining from your taller friends.
Safety Comparisons
Both of these crossover performed well in crash tests, so the difference in safety comes down to technology. Both have extensive safety suites, but the Mazda i-ACTIVESENSE® is truly something special. It uses multiple milliwave radar and near-infrared laser scanners to examine the area around you at all times. 
You will receive alerts when there's a car in your blind spot, there's an imminent collision ahead and more. Even the headlights are more responsive, turning the direction you steer and automatically turning off high beams when oncoming cars are detected. The Rogue can't claim the same.
Mazda CX-5 vs Nissan Rogue
At the end of our Mazda CX-5 vs Nissan Rogue comparison the new Mazda CX-5 stands victorious. To get a true feel for everything the CX-5 can do, you need to get behind the wheel yourself. 
At Ray Price Mazda, you can. We invite all our local East Stroudsburg, Stroudsburg, Easton, Brodheadsville and Saylorsville drivers to take it for a spin. Our friendly and knowledgeable staff can fill you in on everything you need to know about this incredible crossover. Visit us or call to schedule your test drive today!