Blood Drive Results
28 donations that will help up to 84 patients. Exceeded our goal! Next drive is 5/13 at Ray Price Auto Park Mt. Pocono. 9-2pm.
As of today times are still available.
Thank you for voting us #1 New Car Dealership with the 2020 Pocono Reader's Choice Award.
We also placed in the top 3 for Car Inspection, Used Car Dealership, Oil Change and Repair Service Center.
Thank you for your confidence. Ray Price has been proudly service the Pocono community for over 100 year.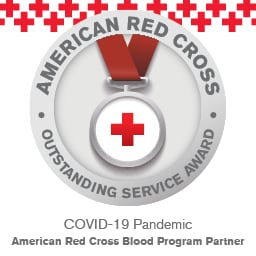 Ray Price Auto Group is happy to help serve our community and the American Red Cross
We reached out to the American Red Cross and offered to host a blood drive at our Stroud Ford Lincoln location on Thursday, June 4.
"They want a nice, clean facility that is temperature-controlled which we are able to provide and easy to get to for their people who come," said Chuck Megee, the general manager of Ray Price Auto Park Route 33.

Here at Ray Price Cars we pride ourselves on giving back to our local communities. Please take a minute to check out the local and national organizations and charities we support.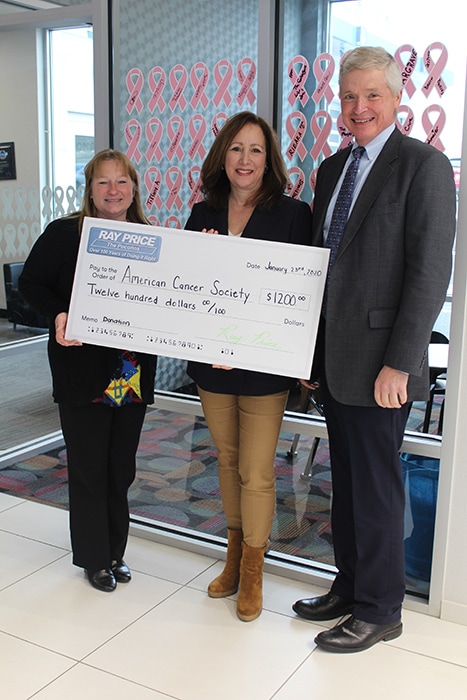 In honor of Breast Cancer Awareness Month in October, Ray Price hosted a "Round Up for the Cure" campaign allowing all sales and service customers to the opportunity to round up their total to benefit the American Cancer Society and the incredible work they are doing towards finding a cure. We were honored to be able to present a check for $1,200 to Lisa Hoey from the American Cancer Society. A big thank you to all our customers and Ray Price who helped make this generous donation possible.
Annual United Way donation of $3,000 given by the Price Family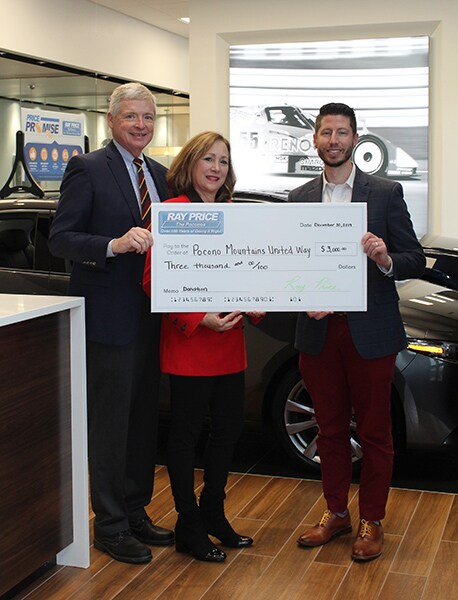 AWSOM Animal Shelter
Thank you to the customers and employees that helped contribute to our Awsom animal collection this past summer. Ray Price, with the help of the community, was able to donate $1100 to the Monroe County shelter to help those animals in need.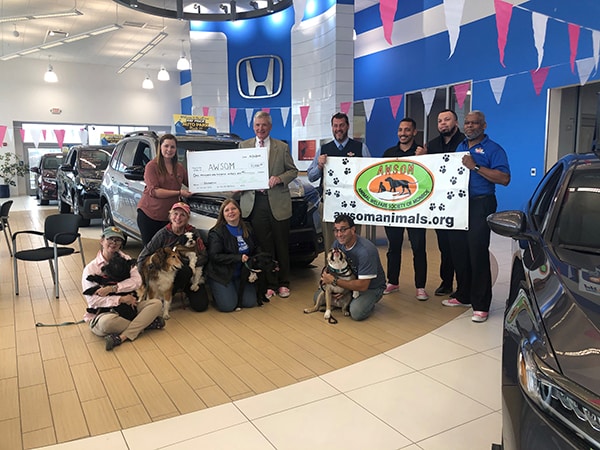 Here at Ray Price Dealerships we pride ourselves on giving back to our local communities. Please take a minute to check out the local and national organizations and charities we support.

---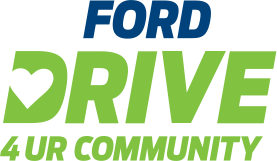 For the past 10 years, Ray Price Stroud Ford and Ray Price Ford have been supporting our Community by sponsoring the Drive 4 UR Community and Drive 4 Ur School presented by Ford. To date this year, we raised $1,280 to help support the local Pocono Mountain Regional EMS. We have more events planned so come to Ray Price and help us support our communities.
Our first ever Drive 4 UR Community event was held at Ray Price Ford in Mt. Pocono on June 2nd 2018. We helped to raise $1,600 for the Pocono Mountain Regional EMS. Thank you to everyone who came out to support your local community.
On April 21st 2018, Ray Price helped to raise $2,440 towards Bangor School. 
---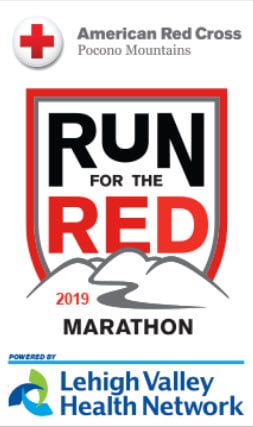 Ray Price Dealerships is a proud sponsor of the Run for the Red American Red Cross Marathon /Half-Marathon/5k on May 19, 2019. Learn more at https://poconomarathon.org/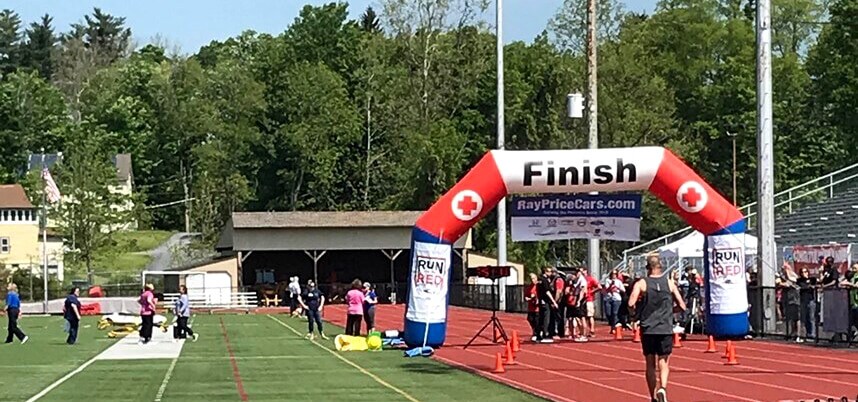 ---
Fill A Honda with Hope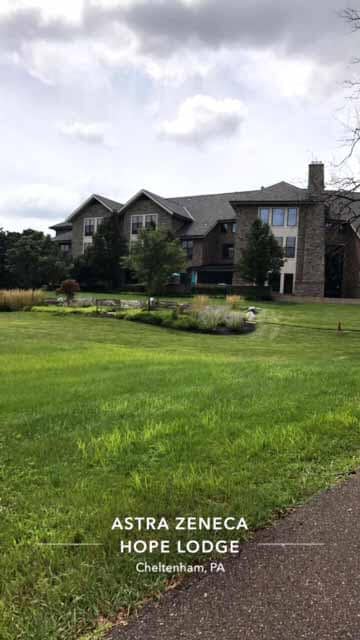 Thank you to all who were involved in helping to make the 2017 Annual Fill A Honda event successful! We look forward to the next collection in 2018 to help this great cause.
Our 
annual fund raiser
 to collect household supplies for the American Cancer Society's 
Hope Lodge
 located just outside of Philadelphia. Every year we partner with Weis Markets in our area to gather supplies for the Hope Lodge, a housing facility the American Cancer Society provides to patients free of charge while they receive treatment.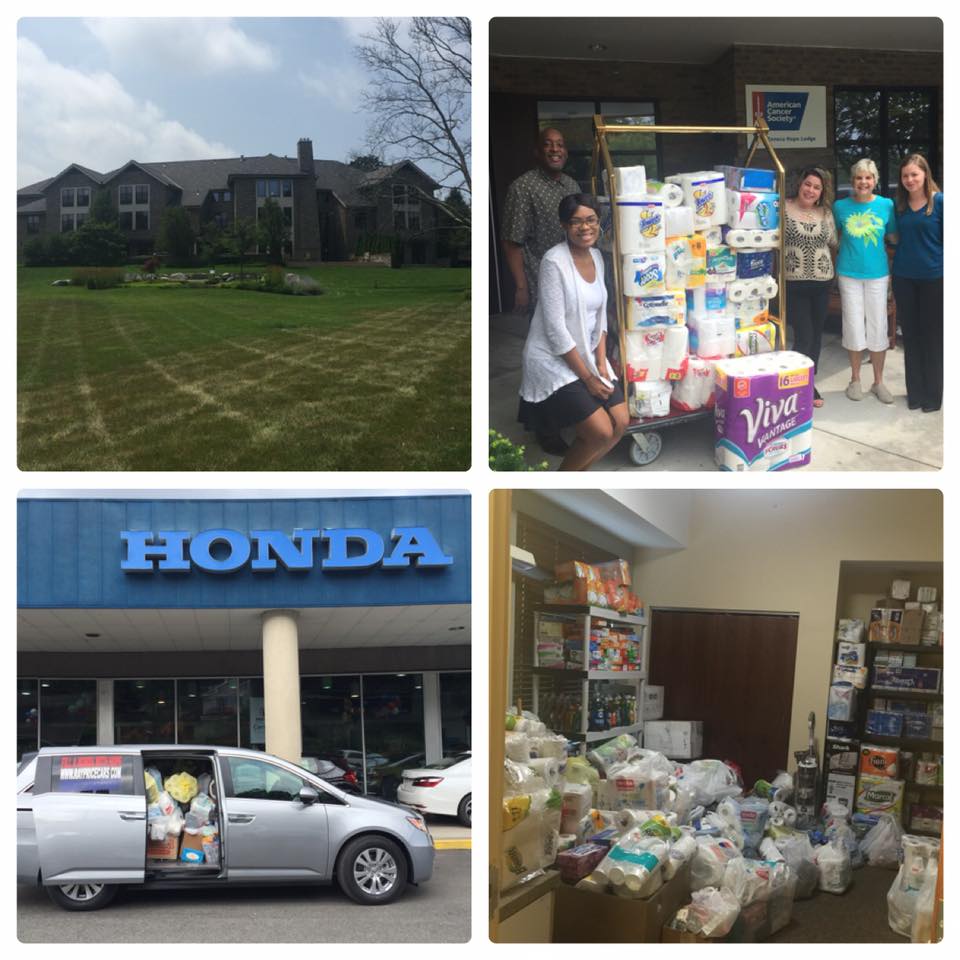 2016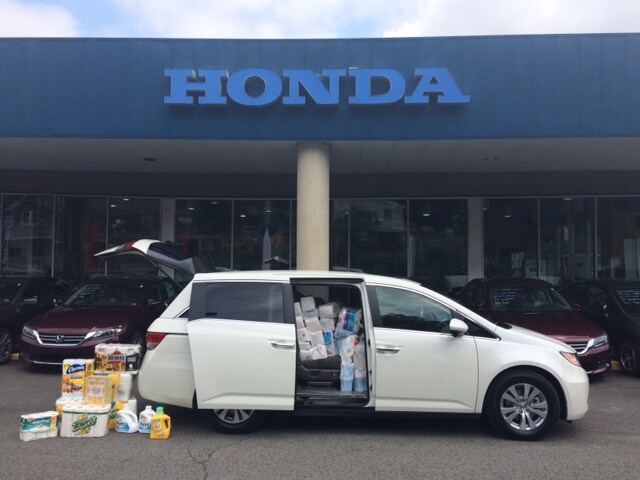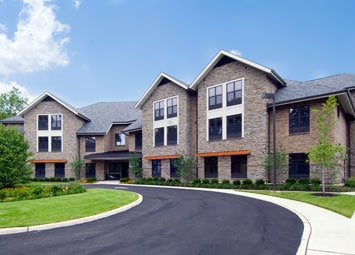 2015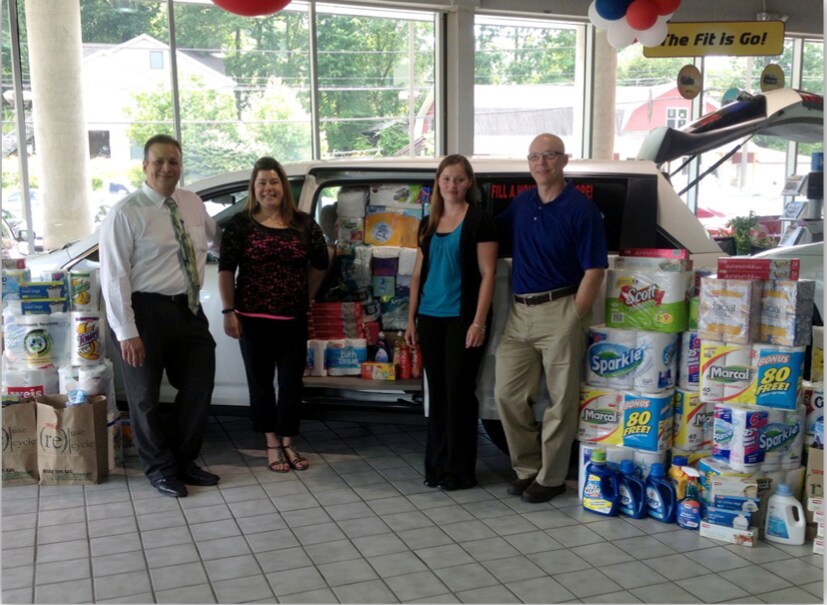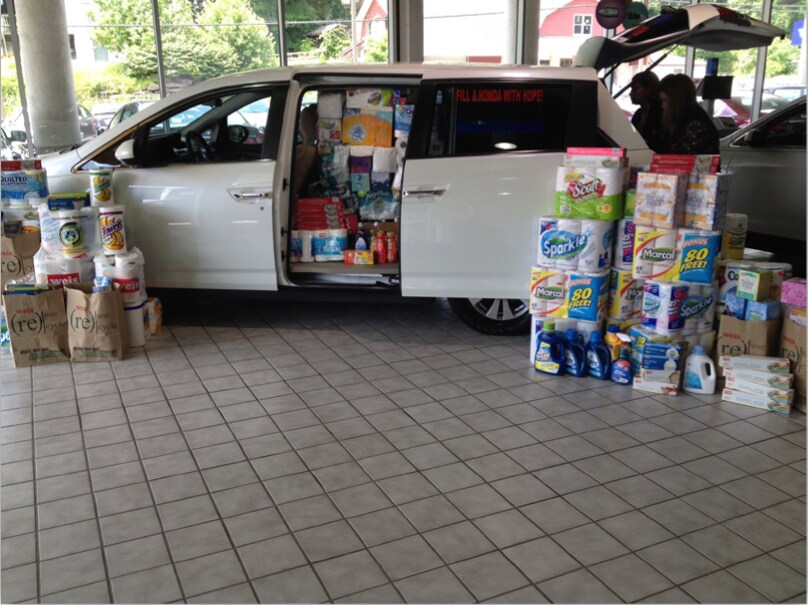 2014
---
Jeff Dailey Memorial Golf Tournament 
June 16, 2017
2017 marks the 10th Annual Jeff Dailey Memorial Golf Tournament and the 4th consecutive year of Ray Price as a sponsor of the Jeff Dailey Memorial Foundation.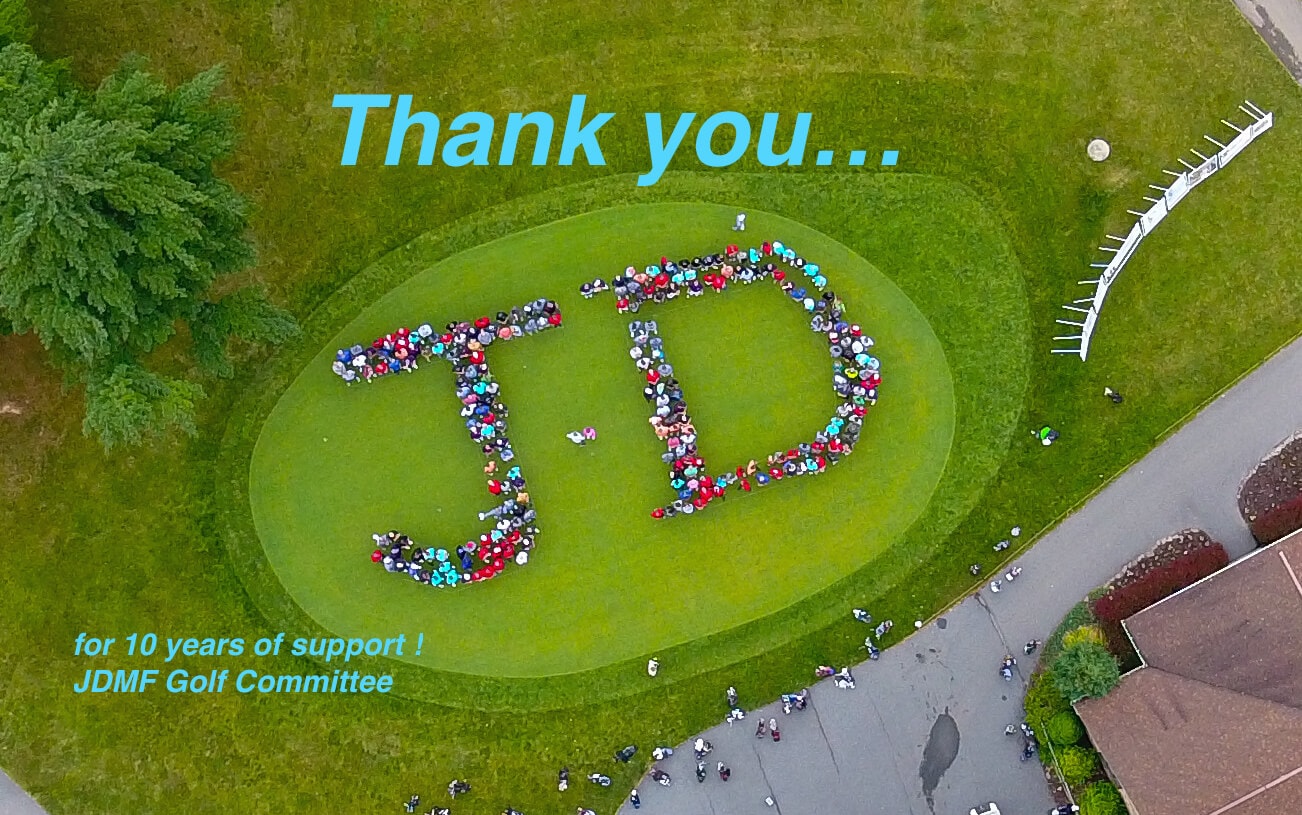 ---
 

Several times each year we partner with Ford Motor Company to raise funds for local high school programs. 
On September 16th 2017, Ray Price helped to raise $2,740 towards the East Stroudsburg High School South booster clubs. 
On May 6th 2017, Ray Price helped to raise $1,470 towards Stroudsburg High School Varsity S Athletic Programs. 
---
Chevy Youth Baseball Program 
2017 will be the third year that Ray Price will be participating in the Chevy Youth Baseball Program. Every year, Ray Price sponsors a local softball team and are proud to be sponsoring the Pocono West Little League for the 2017 season.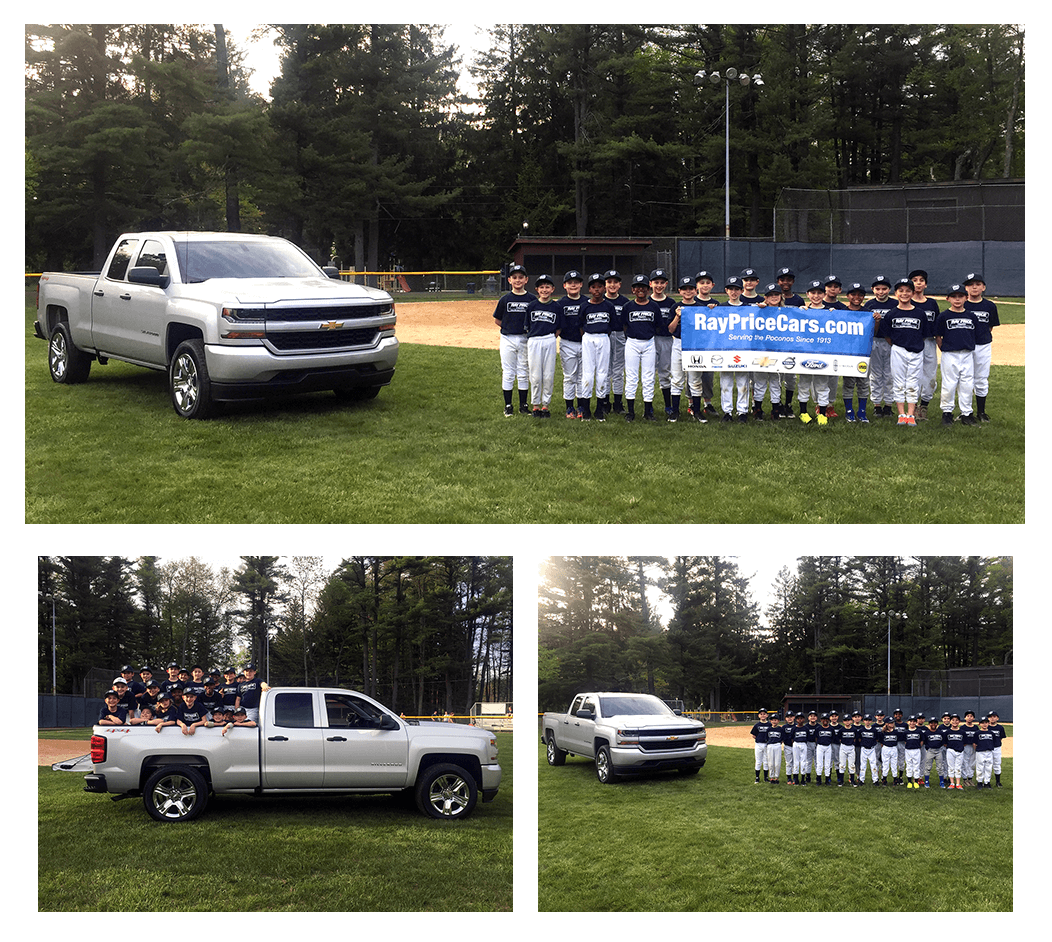 ---
American Cancer Society Relay for Life

Thank you to EVERYONE at Ray Price Dealerships and the local community who helped us raise $3400 for the 2015 Relay for Life of Stroudsburg! 
*2014 Ray Price Dealerships Relay for Life Team exceeded our goal of $5,000 with a total raised of $6,689.00!!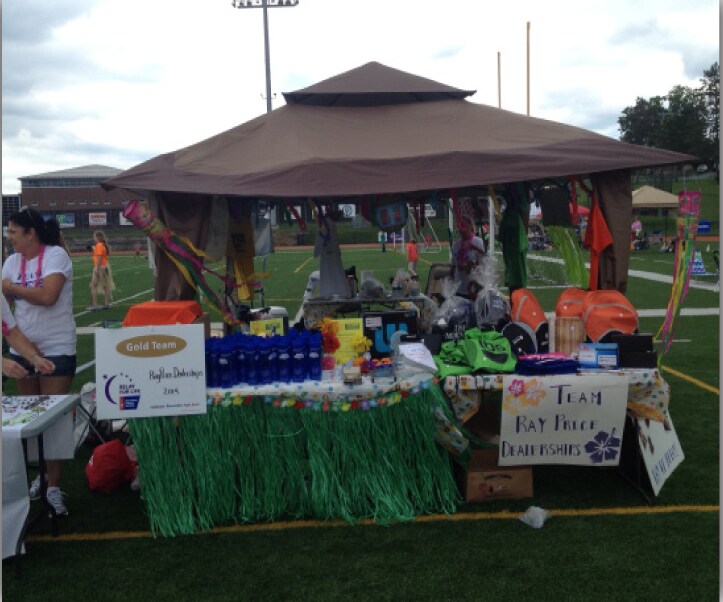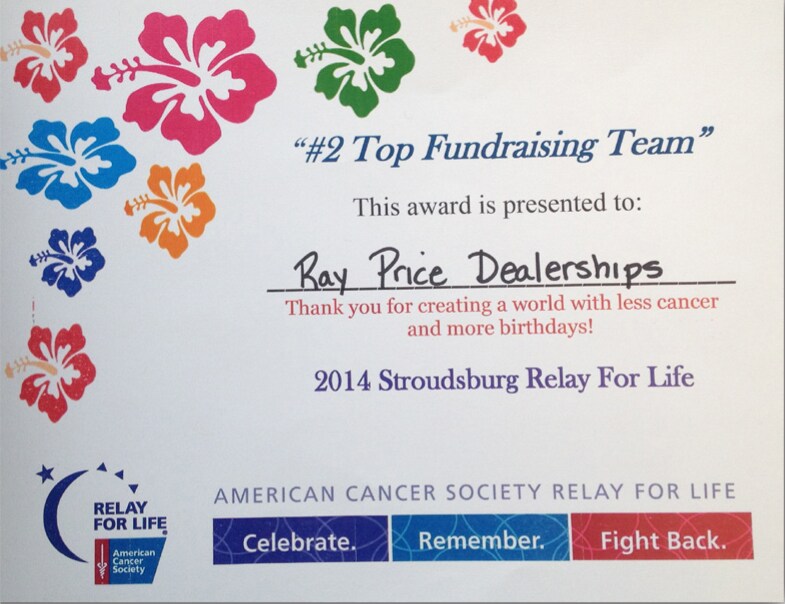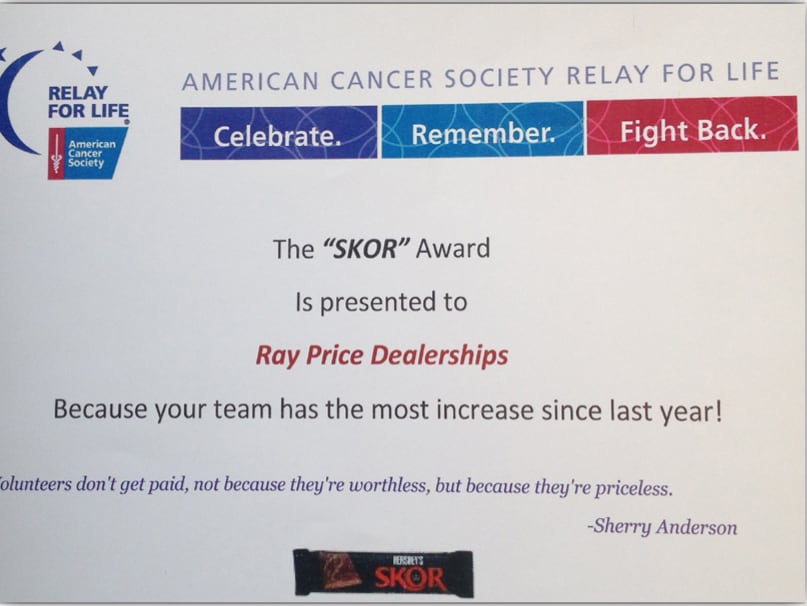 Every year our team raises funds and competes in the local
Relay for Life
events to benefit the
American Cancer Society
and their fight against cancer.
---
Wing O
ff 


We participated in the Annual Pocono Wing Off challenge every year to help raise funds for Monroe County Meals on Wheels.
This year, 2015, Team Ray Price took 1st Place in the People's Choice category with Brian Mel's (Honda Sales Manger) signature flavor:
Garlicky Peppered Parmesan!!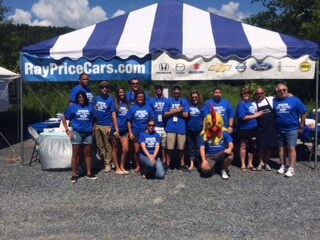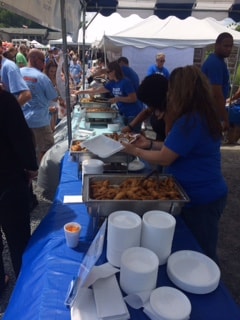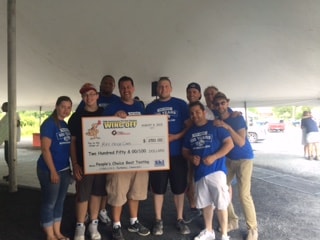 ---

Dale & Frances Hughes Cancer Center


In 2013 we contributed to the completion of the new
Dale & Frances Hughes Cancer Center
at Pocono Medical Center through our sponsorship of the new valet parking area.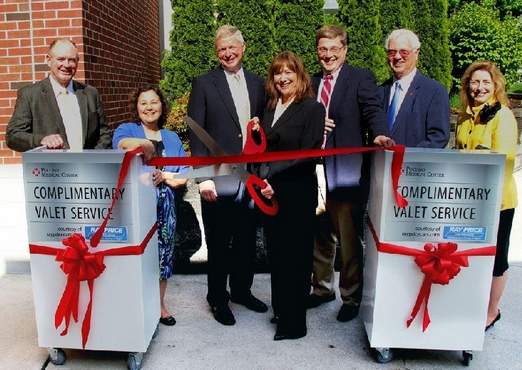 Ray, Lynn, and Walter at the Dale & Frances Hughes Cancer Center Opening

We also make contributions to various local organizations in our community including:

Kiwanis Club of Stroudsburg, Women's Resources of Monroe County, United Way, Pocono Arts Council, local Boy Scouts of America, Pocono Medical Center's Auxiliary Auctions, local hole in vehicle sponsorships.