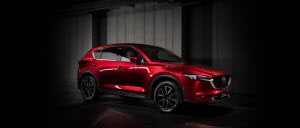 For consumers in East Stroudsburg, Stroudsburg, Easton, Brodheadsville and Saylorsville, PA, interested in a new crossover SUV, one of the most exciting models of 2017 is the upcoming Mazda CX-5. The 2017 Mazda CX-5 is one of the most artfully manufactured in any class, offering discerning consumers features that are practically irresistible. From a gorgeous exterior, to a cockpit designed for the optimal driver experience and impressive technology features, the Mazda CX-5 truly has it all. 
Before you commit to driving the CX-5, however, it's a wise idea to examine this vehicle's best features in closer detail. Learn about the incredible 2017 Mazda CX-5 and discover why this model is the only crossover SUV you should consider driving in the coming year. 
Learn About Mazda Craftsmanship
If you've had the honor of owning a Mazda vehicle before, then you already know about their commitment to craftsmanship, and this commitment is easy to when you drive the newest CX-5. This unique crossover SUV perfectly embodies Mazda's "Soul of Motion" design philosophy, and provides consumers with the attractive exterior that they deserve. 
Every line and curve that you'll see on the CX-5 has been intricately designed for maximum beauty, combining to make an irresistible vehicle. In addition, a three-layer paint process adds a depth of color that you won't find on other crossover SUVs. 
Pick an Interior Designed with You in Mind
When you're selecting a new vehicle to help you get around Brodheadsville, Scranton, and East Stroudsburg, you need to prioritize your experience behind the wheel, which is perhaps the best reason for you to drive the 2017 Mazda CX-5. The CX-5 has been constructed with the driver in mind, and includes rewarding features that you'll love to use. 
For example, the CX-5 places an Active Driver Display directly in your sightline, providing you all the information you need about your vehicle. Additionally, a Commander Control knob that is both fun and easy to use gives you complete authority when you hit the road in the excellent CX-5. 
Use Technology that is Both Fun and Impressive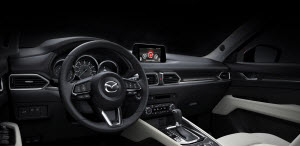 Another crucial factor to consider when you're searching for a new car is what kind of technology a vehicle possesses. The technology of the CX-5 is the perfect combination of fun and functional, providing you a wide range of features that make this model stand out from other crossover SUVs that you could consider.
If you're looking for a quiet, calming ride, then the CX-5 provides it with sound dampening technology. Or, if you prefer to play your music at max volume, you'll love the Bose premium sound system you'll find in this riveting vehicle. Finally, available i-ACTIVSENSE® safety tech keeps you secure whenever you go for a ride in your new Mazda CX-5. 
Test Drive the 2017 Mazda CX-5
If you're a consumer who's tired of settling for the same old, same old when it comes to your vehicle, then the optimal vehicle for you is the groundbreaking Mazda CX-5. The CX-5 has broken the mold when it comes to the crossover class, and makes a superb choice for consumers everywhere. When the 2017 Mazda CX-5 hits the market this spring, make sure to experience this vehicle for yourself by schedule a test drive at Ray Price Mazda. 
Ray Price Mazda offers consumers like you a massive inventory of enticing new and pre-owned vehicles, guaranteeing you'll be able to find your perfect match.